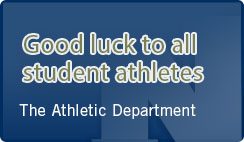 More Events

FR Girls Volleyball vs Wethersfield

10/26/2016
4:00 PM
Home - Mortensen Community Center


V/JV Girls Volleyball vs Wethersfield

10/26/2016
5:30 PM / 4:15 PM
Home


FR Girls Volleyball vs Rockville

10/28/2016
4:00 PM
Home - Mortensen Community Center


V/JV Girls Volleyball vs Rockville

10/28/2016
6:00 PM / 4:15 PM
Home

Girls Volleyball
2016 Girls' Volleyball
Important Dates:
NCAA Night. All student athletes and parents who are interested in

learning about playing a sport in college athletics should attend.
7:00-8:00 pm: Volleyball specific information: club, preparing to play VB at the

collegiate level, Q&A
Practice Schedule 10/24-10/28
Tues./Thurs.

Freshman 3:15-5:00
Practice Schedule

10/31-11/19
Tues./Thurs.

Freshman 3:15-4:15
N
HS Volleyball Season Expectations: Click on link below:
Check out these videos related to your position:
Inspiration: When you think that something is hard, ask yourself, "HARDER THAN WHAT?"
Use the link below to sign up for the Girls Volleyball remind.com account for updates:
https://www.remind.com/join/gvoll
Club Volleyball:
Bristol Crush (Bristol): https://crushvolleyball.wordpress.com Gail Ericson bristolcrushvolleyball@gmail.com
Husky Volleyball (Windsor): www.huskyvolleyball.com 860-754-8274
CT Juniors: www.ctjuniorsvolleyball.com (Woodbridge) 203-387-1181
Volleyball Clinics:
LL State Tournament Schedule

|

|

Share